Maximizing your investment: your guide to software pricing & ROI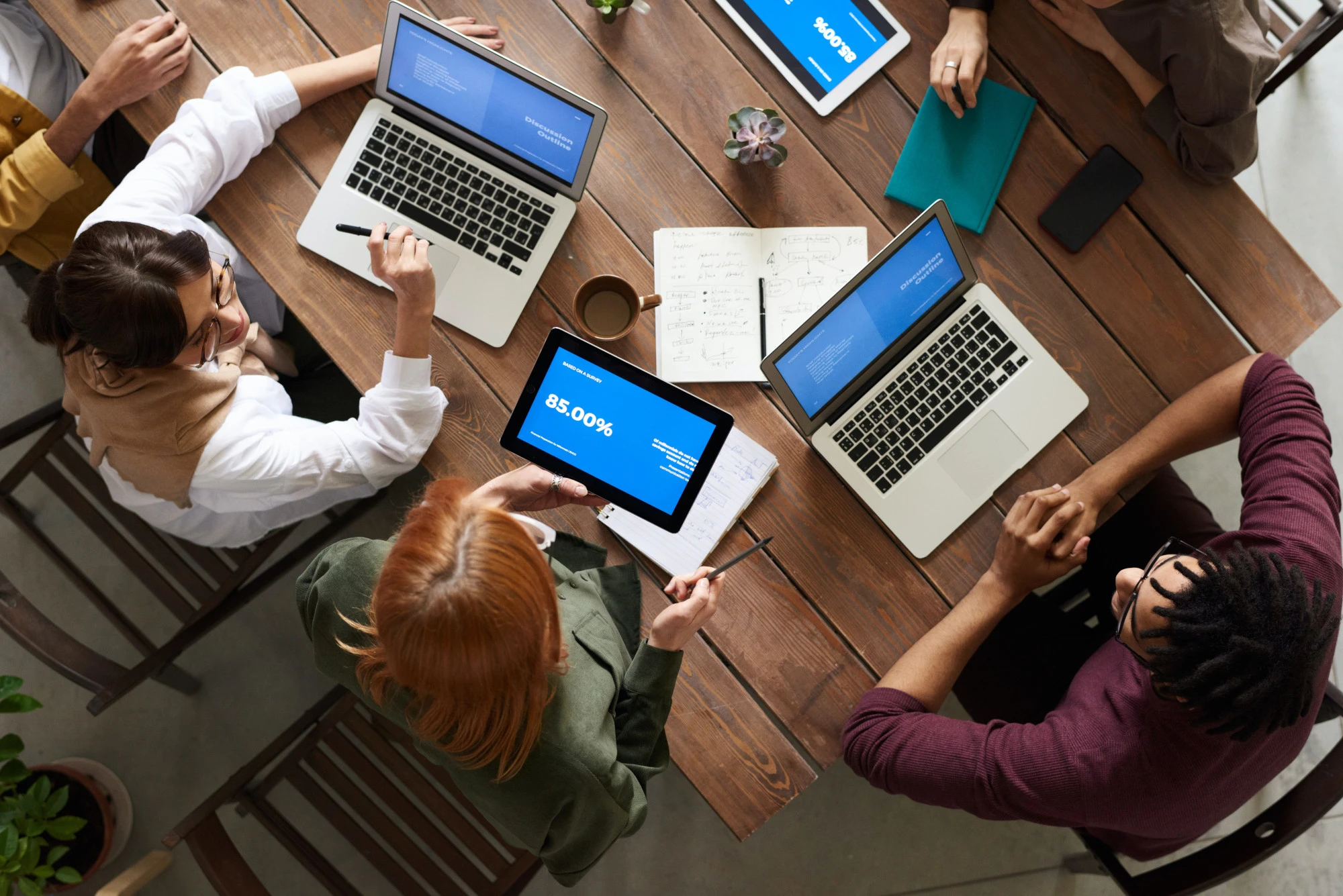 You might be considering switching software or building a custom solution to stay ahead of the tech game. But the big questions that naturally come up are: how much is it going to cost us? And will the investment be worth it in the long run?
One way to find out is to calculate your business software's return on investment (ROI). This is a key financial metric to help you understand how profitable your investment is — whether custom, off-the-shelf or somewhere in between. And what it means for your business bottom line.
In this article, we cover the following:
How much is a new software solution going to cost in the first place?
With new software emerging by the second, investing in one that's in line with your overall business and product strategy makes sense. So here's step one to estimating your costs: get clear on what business goals and strategies a new software would contribute to.
For example, it could add value to your business by:
Saving you time and labor costs with more efficient business processes.
Improving your overall business revenue through reduced time to market.
Increasing your employees' productivity with a smoother workflow.
Or benefiting your product strategy by:
Improving data quality — which means better business decisions in the long run.
Keeping your customers satisfied by improving their user experience.
Being clear on these will not just help you make an informed decision but also find the best way to calculate your ROI. Below, we cover some concrete calculation formulas for each of these metrics.
How to budget for software implementation
How much you need to budget completely depends on the complexity and scale of your project. But luckily, we've figured out a discovery process where we work that out together with our clients (we go into more detail below). For example:
Digitizing a simple analog process might cost a few thousand euros.
A more complex web application integrated into your existing business website exceeds this — big time.
In a nutshell: there's no one-size-fits-all answer upfront for your software costs. But we can give you a rough ballpark figure. Here are a couple of examples of standard development services we provide at TRIGO and what they might cost you on average:
TRIGO services
Average price total
Discovery phase
€5,000-€50,000
Development & implementation phase
€30,000-€80,000 (for small and medium-sized businesses)
Maintenance phase
€900-€5,000

Specific software services

Custom software development
€10,000-€100,000
Software testing and quality assurance
€2,500-€15,000
UI/UX design
€1,000-€10,000
Cloud computing services
€2,000-€10,000 per month
DevOps
€5,000-€50,000
CRM software development
€15,000-€50,000
And here are some examples of software development services that are relevant for business but that we don't provide at TRIGO:
| General software services | Average price total |
| --- | --- |
| Website design and development | €2,000-€10,000 |
| Custom e-commerce website development | €10,000-€30,000 |
| Mobile app development | €10,000-€150,000 |
These are all examples of software that you might build, i.e., hire a team to develop for your business — solutions that are more likely to adapt to your business needs, align with your goals and strategies, and yield a significantly higher ROI.
On the other hand, the software you buy off-the-shelf might cost you much less upfront — but you might still have to bend and twist to adapt to its functions. Here's a post that can help you understand better whether you should build or buy new software.
If you're not working with an external partner to develop software — hiring a development team is going to be one of your highest upfront costs. Besides these, you'll also have ongoing expenses. For example, the resources needed for your employees' training, especially if your new solution is complex. Or continually updating and maintaining your software over time.
Why budgeting for software maintenance is a smart idea
Implementing new software isn't just a one-and-done deal. If you truly want the best ROI, you'll also have to factor in maintenance for the long run. Aka, regular updates and checkups to make sure you're using the latest versions and keeping your software data security up to speed. Because software risks like unscheduled downtime or bugs in the code can cost you financially and security-wise.
At TRIGO, we regularly maintain and update our clients' software throughout our working relationship. By keeping our clients' software secure, optimized, and up-to-date, we help them get the best ROI in the long term.
How fixed pricing makes it easier to calculate your ROI
We at Trigo offer our clients fixed prices for every stage of development for their custom software. Because in a nutshell:
It's the fairest working arrangement — you (the client) and we (the service providers) know what we're signing up for.
With a fixed price, calculating the ROI for your custom software is easier. Because you now have a precise figure for the software development and implementation cost.
It helps you dodge an awkward conversation with your CFO in the long run. Aka, no unpleasant (financial) surprises.
Benefits like these are also why we avoid standard practices like time and material-based pricing. Because if we charge you by the hour, all the risk is on your side, time and services-wise. And all too often, we've found that clients might not be able to identify all the extra risks involved with a software project, which might cause delays in development. (While we can, as experts.)
This is why our first step with clients is always a thorough discovery phase — so we can best understand your needs.
How a discovery phase helps you budget & figure out your ROI
At TRIGO, we always start with a deep dive into our client's business needs. Aka, a discovery phase. So by the end, you understand your project expenses in context and why certain services might cost as they do.
Our discovery phase ends with important points:
Our take on whether you should build or buy a new software — and how it fits into your business goals.
How much you should budget to realistically cover costs of development, implementation, and ongoing maintenance
A timeline of time to market and when you're most likely to break even. Aka, when your profits begin to exceed your initial investment costs.
Only after this do we develop a project plan based on your time, resources, and capacity. And to give you an average price range based on our experience, implementing (and maintaining) a solution for our clients can range between €25,000 and €250,0000.
So with some help from us, you can better understand how your costs compare to the long-term business benefits of a new software solution. Here are a couple of ways to calculate your software ROI across different metrics.
What factors play into the ROI of software development?
As we've mentioned earlier, how you calculate your software ROI depends on what goals and strategies you think this investment will contribute to. No matter if you're considering custom software, an off-the-shelf solution, or some combination thereof.
Below, we cover some standard software ROI metrics that can help you understand whether your investment was worth it concerning both your business and product strategy:
ROI metrics for your business strategy
Time & labor cost savings
Let's say you're heading an insurance company — where your employees are losing time validating claims against policy coverage manually. So after some exploring, you invest in software that automatically validates insurance claims' saving your business time and money in the long run. Now how to figure out if your investment was worth it?
In general, you calculate the ROI of any software investment by comparing your initial investment to your net gains. In this case, that would be the amount of time and money your business saves from using your new software. Here's a simple formula you can use:
Time and labor cost as a software ROI metric:
(Total cost savings - Total cost of software implementation) / Total cost of
software implementation x 100
Business revenue
Over time, your new software is meant to help you reach (and exceed) your product and business goals. Which might look like maximizing your business efficiency, keeping your employees happy, or improving your user experience. All of which can increase business revenue.
Because when done right, a new software solution can speed up your time to market — especially when compared to time spent in development. So calculating its ROI on your overall business revenue makes sense once you reach your break-even point.
Overall business revenue as a software ROI metric:
(Total revenue generated from new software - Total cost of software
implementation) / Total cost of software implementation x 100
Improved productivity
Your choice of business software directly impacts your employees' satisfaction at work. A new solution that smoothens their workflows and gets rid of unnecessary steps means happier, more productive employees. This applies even if it initially creates minor disruptions to business processes and workflows.
Business productivity as a software ROI metric:
(Total revenue from using the software - Total cost of software
implementation) / Total cost of software implementation x 100
ROI metrics for your product strategy
Improved data quality
Manual data entry is a recipe for business slowdown. If you're physically entering data into, say, a customer relationship management (CRM) system or across Excel sheets, you're at a higher risk of errors, a slower and more inefficient workflow, and frustrated employees. Revamping your business software to minimize manual data entry helps reduce the risk of mistakes and enables you to make better business decisions with time.
Data quality as a software ROI metric:
(Total cost savings from reduced errors - Total cost of software
implementation) / Total cost of software implementation x 100
Customer satisfaction
When your new software creates a better user experience, it goes a long way for your competitive advantage. Happier customers mean improved brand loyalty — a stronger brand reputation for your business. And if your new software solution helps bring in more customers, that's great news for your business revenue and overall product strategy.
Customer satisfaction as a software ROI metric:
(Total revenue from happy customers - Total cost of software implementation)
/ Total cost of software implementation x 100
o besides all these metrics, what does ROI in software development really look like? We think it's peace of mind. From the assurance that you're using a solution that fits your business goals, keeps your employees and customers happy — and makes it easy to stay productive.
Calculating ROI: examples from software we've helped implement
Implementing new software is a huge step for any business — so it makes sense to cover all your bases from the get-go. Here are a couple of examples from companies who've opted for a custom software solution and the impact it's had on their ROI.
Dr. Hartl Autoverleih
Let's start with the example of Dr. Hartl, a car rental service initially arranging bookings via phone. With staff busy answering customer calls about prices, availability, and other details, the company lost an estimated average of 7–8 hours per day. Which might translate to around €225 per day in labor costs. And when you consider a full working year, these numbers add up:
| | | |
| --- | --- | --- |
| | Time | Labor Cost |
| Estimated daily cost | 7.5 hours per day | €225 per day |
| Projected annual cost | 1875 hours per year | €56,250 per year |
The solution? Going digital. With TRIGO as their service provider, the company invested €40,000 to digitalize their business processes. Which turned out to be:
A price calculator so that customers can immediately check for a vehicle matching their requirements.
A customer relationship management (CRM) software for them that tracks customer data and manages their fleet on a daily basis.
Once they implemented their custom software, the results added up as quickly. On top of saving a full day's work due to customers opting for the online calculator, Dr. Hartl saved an additional €45,000 per year. They even found that they could continue business operations with one less employee. Here's how they calculated their cost savings ROI:
| Costs | Software investment | Savings |
| --- | --- | --- |
| €56,250 per year | €40,000 | €45,000 per year + previous labor cost figures = €101,250 per year |
Time and labor cost as a software ROI metric:
(Total cost savings - Total cost of software implementation) / Total cost of
software implementation x 100
Plugging in these figures gives you an ROI of 153%. Pretty neat, if you ask us. And a great example of how a custom software solution can nail business processes and create a more efficient workflow.
Dr. Hartl now competes with multinationals like SIXT and Europcar, has seen a 30% improvement in employee productivity, and has massively expanded its customer base since implementing their price calculator. You can read the full story of how they maintained their competitive advantage through digitalization on our website.
BFI Burgenland
As one of Austria's largest adult education centers, BFI Burgenland understood early that its existing software needed a digital transformation. Initially, employees were losing time switching between multiple tools and media — including paper, Excel sheets, and their internal software, UMA. As we've covered before, this increases the likelihood of errors and doesn't bode well for employee productivity either.
When you scale this up to a year, business software that's both difficult to use and runs on manual data entry can cost you — big time. Especially with the amount of time and effort spent in fixing data errors:
| | Time costs | Labor costs |
| --- | --- | --- |
| Estimated daily cost | 4.5 hours per day | €400 per day |
| Projected annual losses (with an average hourly rate of €50) | 2000 hours per year | €100,000 per year |
Which is why BFI Burgenland began by setting their baseline through a discovery phase with TRIGO, where we helped them define their software requirements. We started by optimizing BFI Burgenland's existing software, UMA. Ensuring that it was both more user-friendly and included more specific access rights.
Along with this, we also developed:
An internal dashboard for employees to stay on top of their logged hours and resources.
An automated system for counting attendance.
A centralized system for business data to keep everything in one place.
BFI Burgenland quickly slashed the hours spent correcting manual data entry errors with their new custom software. With their seamless new workflow and automated data entry, they saved a hefty €65,000 per year. Here's how they'd calculate their ROI from implementing a software system their employees actually want to use:
| Costs | Software investment | Savings |
| --- | --- | --- |
| €100,000 per year | €75,000 | €65,000 per year + previous labor cost figures = €165,000 per year |
Data quality as a software ROI metric:
(Total cost savings from reduced errors - Total cost of software
implementation) / Total cost of software implementation x 100
And once you've done the math, you've got yourself an ROI of 120%. Aka, the benefits of choosing a software solution that's in line with your employees' needs and makes high-quality data processing easy.
BFI Burgenland now works with a modernized tech stack that's more user-friendly, ensures quick turnaround times, and keeps data consistent and centralized. Helping them maintain the competitive edge they need within the labor market and make better strategic decisions. Here's the full story of how we implemented the baseline for their digital transformation.
Software ROI metrics across industries
As your business grows and its needs evolve, you might find yourself considering how new software could fill the gaps. Here are some examples from different industries and how they might compare their investment to the long-term benefits of implementing a new solution.
Real estate
The more properties in your pipeline, the more paperwork. But property managers and real estate agents can get a lot done with a centralized system built for their business needs. This might look like the following:
Managing documents and communications in one database. These could be rental contracts, transactions, maintenance requests, and more.
Automated appointment scheduling, lead tracking, and follow-up communications.
Where software can step in

Off-the-shelf
Custom

Property management software like Buildium and Yardi.

CRM software like Salesforce and Freshsales.

Virtual tour software like 3D Vista.

A custom property management, CRM, and accounting software integrated into the website backend.

Integrating a tenant portal into existing software.
Now let's talk numbers. Let's say a real estate agency opts for a custom property management solution integrated directly into their website backend, including a CRM system and maintenance management software. Because they're now using fewer tools and working with features tailored to their business, their new solution saves them 35 hours per week.
Software investment
Savings
ROI metrics
€30,000

Time & labor costs
Overall business revenue
Customer satisfaction
Time and labor cost as a software ROI metric:
(Total cost savings - Total cost of software implementation) / Total cost of
software implementation x 100
Once you've done the math, it results in an ROI of 133% — a great start to their digital transformation which grows exponentially with time.
Construction
Much like real estate companies, construction agencies handle large projects with complex regulatory requirements. Which makes it smart to invest in software that automates tasks like inventory and safety management. For example, construction project managers could use:
Project management tools that automate resource allocation and progress tracking. This means real-time visibility into project status and the ability to correct course, avoid delays, and take action early on.
An inventory management system to keep track of materials and equipment and avoid stockouts. Including an automated system to manage orders for receiving and sending materials.
Safety management tools that automate inspections and incident reports and include personnel training.
Where software can step in

Off-the-shelf
Custom

Building information (BIM) software like ArchiCAD.

Safety management software like EHS Insight and Safety Culture.

A custom supply chain management software that combines equipment tracking and asset management.

Integrating specialized project management features with existing software.
A construction agency that's run into a roadblock with their existing software might consider optimizing it to meet their needs better. For example, integrating new features to manage subcontractors better and tracking their work orders and payments. On top of streamlining communication and removing the need for endless emails between the agency and their subcontractors, their new solution reduces data errors by 75% and saves them 10 hours per week:
Software investment
Savings
ROI metrics
€25,000

€60,000 per year due to fewer errors in billing and payments

500 hours per year (from a 30% reduction in project delays)

Time & labor costs
Overall business revenue
Increased productivity
Improved data
Data quality as a software ROI metric:
(Total cost savings from reduced errors - Total cost of software
implementation) / Total cost of software implementation x 100
Put together, that's an ROI of 140% for improved data — which shows how you don't necessarily need to switch to a new system to see results. Rather, optimizing your existing software to align with your business goals goes a long way.
ROI in IT & software: keeping things realistic
Getting a picture of your software ROI is tricky by itself — and its results might take some time to show up. This is why it's important to keep your expectations realistic. Here are a few steps to get started:
Focus on metrics beyond just cost savings. Even the newest tech on the block might not get results if it doesn't meet your employees' needs. Besides the amount of time and money you save, your employees' productivity is linked to how satisfied they are using your business software on a regular basis. And you can take a step in the right direction by investing in a solution that's in line with your everyday experience.
Put the user first always. Software that's in line with your user surveys scores higher when it comes to adoption rates. We've often come across software projects where developers focus on fixing the tech first and user-friendliness later (if at all.) Even the most technically sound product might end up with a negative ROI if it isn't optimized for end users.
Adjust your budget to the software lifecycle. As we've covered earlier, software development means implementation and long-term maintenance, updates, and support. If you don't account for ongoing and upfront costs, you might end up with an ROI projection that isn't in line with the actual cost of ownership.
Keep an eye on the clock. Software that maximizes your time to market is a smart option since it means staying ahead of the competition. One of the first steps we recommend any business takes before launching a software project is comparing time to market to time needed for development. Factoring this in helps you launch your software project with a more realistic timeline of when you'll break even.
Treat change as the norm, not the exception. With all the risks and potential delays in software development, it's always a good idea to plan for last-minute changes — emergencies included. With a software change management plan, you can roll out your new solution with fewer disruptions to your business processes and a happier bunch of employees than without one.
Want to get more clarity on your software ROI? Get in touch with me, Christian, for a no-pressure discovery call — so we can do the math together.