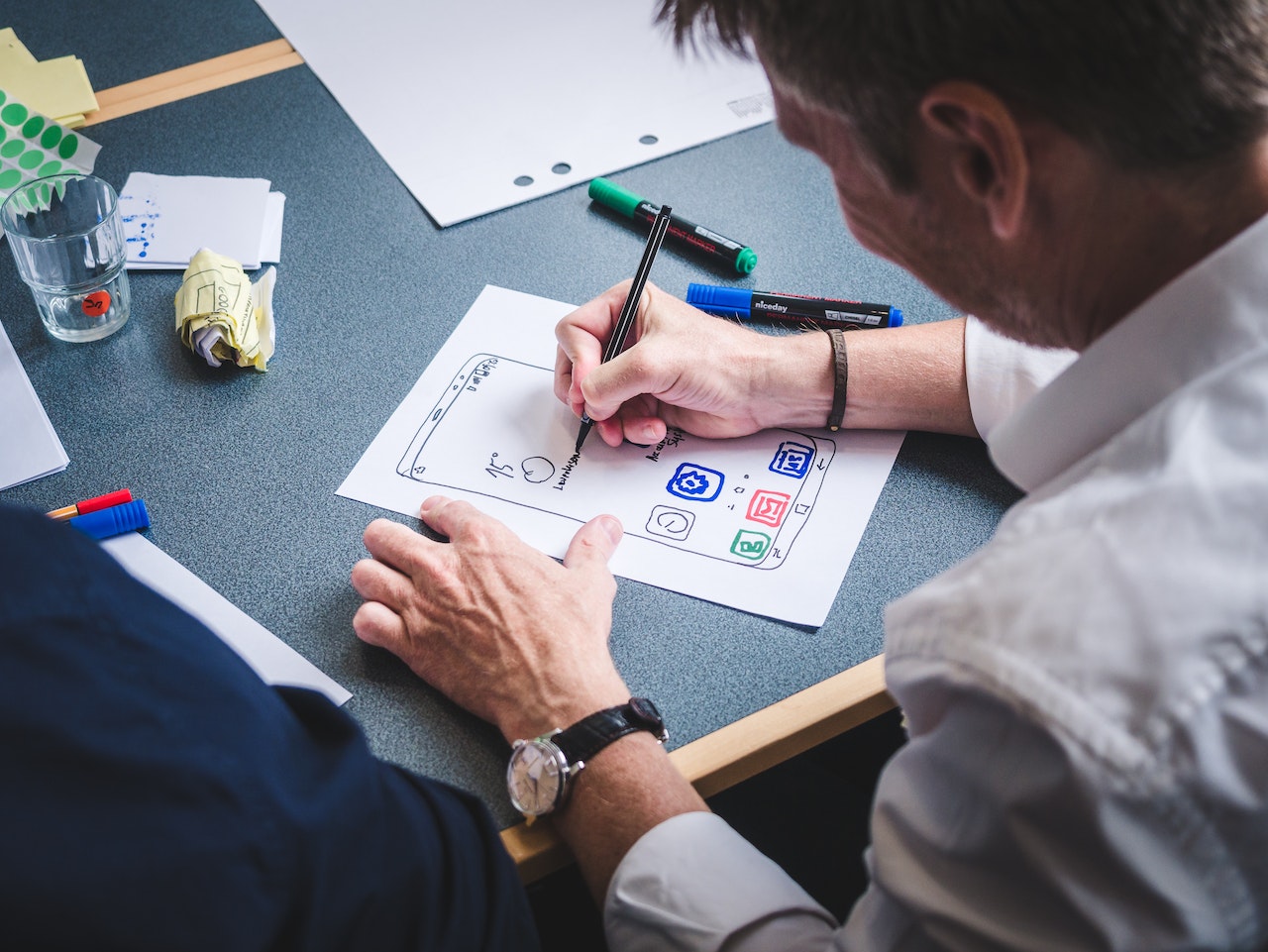 In a competitive tech market, it's not just your product features that keep your customers coming back for more. Instead, it's user-friendliness and your software's overall experience that make them stick around.
Over the years, both UX (user experience) and UI (user interface) design have gathered traction — and for a good reason. In this insight, we're going to cover why UX matters and a real-world example of it in action. So you can understand it in context and apply it to your own products.
UX in software development: what it is & why it matters
You may have just ordered lunch from an app like Mjam or pinged a colleague on Slack. You also likely do these steps without overthinking them — there's just nothing to it, right?
Well, that's why products like these are so popular in the first place: they're built specifically for users like you. And in general, the easier your product is to use, the more your users will stick to it with time.
That's what software UX is all about: making your product or service easy and enjoyable. And this applies to every aspect your users interact with — its design, interface, and functions. Even the way you market your product or handle customer support impacts its overall experience.
In the long run, great UX makes your users more likely to:
Invest in and use your product or service in the long run
Recommend it to others in their network
Remain happy customers to your business over time
Stay engaged with your product or service over others
Because in today's market, you've got some hefty competition for your users' attention. So investing in an enjoyable user experience helps you maintain your competitive edge. And also build a great relationship with your user base.
So here's the first step to get you started on your software UX journey: user research. This might look like user interviews, surveys, or user tests with a simple online tool like Userbrain. Helping you gather data on your users' needs, preferences, wants — and what problems they might run into trying to reach their goals with a specific product or service.
Put together, your research findings can help you create software driven by data — and also meet user needs as closely as possible. Which, over time, adds incredible value to your business as a whole.
Why investing in software UX is your key to better business
Put yourself in the shoes of your users — you might find it easier to use an app or product that, for example:
Lets you make a payment in 1–2 steps, max (aka, easier purchases).
Brings a smile to your face with a friendly message (engaging you that much better).
Keeps all your data in one place — without you having to go back and forth between different apps or products (speeding up your workflow and keeping your employees happy in one go).
These are all small, important ways that UX shows up in software. With time, it helps build trust among your users — which, in turn, helps your business grow and thrive in the long run. Because when you balance tech specs with user-friendliness, you're more likely to launch a product that brings real value to your audience.
At TRIGO, we've learned that it's smart to prioritize UX research and design early on. And we have the numbers to prove it. Here are a couple of its benefits we've gathered.
Reduce your development costs
When you start early with user research, you end up with a clearer picture of your users' needs. Which, in turn, helps you build a product that's most in line with their experience. And because you've planned ahead, this helps you:
Prevent delays in development before product launch
Prioritize the right features to build the right solution — rather than constantly rebuilding or going back and forth
Put together, this can help you slash your development costs by 33-50%. Which goes a long way when you scale this up to a year or more.
Improve your business revenue
From a study by Adobe: businesses that prioritize software UX have a 400% higher conversion rate than those that don't. This makes sense once you've figured out what features best add value to your new product and prioritize them. In the long run, this also speeds up your time to market — massively boosting your competitive edge.
And it doesn't end there: the happier your end users, the more likely they are to recommend your product to others, which improves customer retention rates and can result in a nearly 15% increase in your business revenue overall.
A report by Forrester found that every dollar spent on building a user-friendly solution can result in a return of up to $100. Aka, a return on investment (ROI) ranging between 200-900%. Not too shabby, if you ask us.
Reduce your training costs
In general, the less cluttered and feature-heavy your product design, the better. Products that are easy to use are also easy to adopt. Which can cut your training costs by half — no need to invest in costly training resources or materials to help onboard new or returning users.
Which, in turn, leads to…
Fewer customer complaints
According to a study by the Nielsen Norman Group, poor UX and product design are common reasons why users contact customer support. Which might look like:
Software roadblocks, or when the product interface prevents them from completing a task. (Like adding an item to a checkout list or signing up for a service.)
Missing or confusing information, or when your app or site content doesn't answer users' questions entirely.
A limited software interface. Or when users feel that your product might not be able to handle the complexity of their request. Which makes them contact your customer support team to handle it one-on-one instead.
On the other hand, software that's easy to use means your users will be less likely to reach out for help with basic functions. Which can cut your customer support costs and help your team filter incoming tickets easier. Helping them both prioritize addressing complex requests — and save time and effort in the process.
Improve your business productivity
User-friendly business software can help you optimize your workflow and business processes, for example, by automating repetitive, time-consuming tasks (like manual data entry) or centralizing all your data in one place. This prevents employees from having to work back and forth across multiple tools or making mistakes from manually entering data.
In the long run, a user-friendly product or service can help your employees reduce turnaround times and work more efficiently. ****And because your choice of software can directly impact how happy they are at work, this can also improve your team's morale and productivity — while lowering turnover rates.
In fact, a survey by InVision found that:
64% of respondents found it easier to work faster and better with user-friendly software
57% found it easier to collaborate with multiple departments
With all these benefits, there's a pretty strong business case for developing a software product optimized for users — both within and outside your business. And at TRIGO, our client discovery phase always begins with gathering user insights to inform our project plan.
So let's see it in practice: here's a real-world example of a business that partnered with us as their custom software provider and implemented a solution that put their user needs first.
BFI Burgenland: putting users first in a digital transformation
One of Austria's largest adult education centers, BFI Burgenland, aimed for a digital transformation to better compete in the labor market. When setting their baseline through a discovery phase, we found that this meant better aligning their existing software to their employees' needs — vastly improving their engagement and productivity.
Here's how it went:
The challenge: lost productivity, compromised data quality
BFI Burgenland's educational assistants coordinate courses and lectures using their existing software — along with Excel sheets and physical files. Once we began our discovery phase, here are some of the roadblocks they were experiencing:
Losing time going back and forth between tools and media. Employees were transferring information from paper to Excel sheets to their internal software (UMA) — and back to paper again, which brought their workflow up to five cumbersome steps.
There was a higher chance of human error because employees had to manually enter data, which, in turn, doubled any lost time and effort in double-checking and adjusting, making it more likely that someone would make a mistake.
Reduced productivity and data errors aren't just one-off setbacks. Instead, they add up — big time, especially when you scale it up to a year. And in general, the more complicated your business software, the more time and effort your employees lose bending and twisting to its needs.
So during our discovery phase, we reached a solution early on: simplifying BFI's existing tech stack to make it more user-friendly. We started by gathering insights from its user base.
The solution: leveraging user insights to modernize BFI's software
User research can help you identify what changes can improve the overall experience of your product. So we began by interviewing both BFI employees and customers — i.e., internal and external end users. Both groups turned out to be highly invested in a digital transformation, sharing insights that helped us figure out a better solution.
So with their input, our first development sprint ended with a feature roadmap — a step-by-step progression of how BFI could succeed with a new, modernized software solution. We also shared our plans for improving and building on BFI's existing framework and database to make it more user-friendly, cutting their workflow from five steps to two.
The outcome
As a result of implementing their new, more user-friendly solution, the BFI team now works with a streamlined, more efficient business workflow, which has helped them:
Speed up their turnaround times. Making it easier for them to get more tasks done in less time. Which, in turn, helps them stay on top of their business processes — and ahead of the competition.
Improve their data quality. Providing them with better insights into their workflow. Which, in turn, helps them improve their decision-making in the long run.
Use a centralized database. By keeping all their data in one place, their new software saves employees time and effort switching across tools.
And most importantly:
Create a happier, more productive workplace, mainly because their employees see value in their modernized software solution. Highlighting the importance of user insights when investing in new business software.
Our most important learning from this project? The sooner you begin your UX research phase, the better. Because involving your users right from the start can make all the difference when rolling out a new software product at work.
UX in software development: simple steps to get started
Besides starting your research early on, here are some simple steps to help you build a product your users love:
Run a series of simple user tests. With software like Userbrain, you can quickly and easily gather insights from a pool of quality-assured testers. Userbrain also lets you filter by demographics and screen testers by their previous experience and preferences. Then, in just a few hours, you'll have videos of them interacting with your product or service and sharing their feedback.****
Be prepared to have your assumptions challenged. If you want your product to align with user needs, focus on what emerges from your user interviews or tester feedback (and not what you think is common sense). This means building a product driven by data — not guesswork. UX research can be a humbling experience — we'd know. But it makes all the difference between launching a successful product and losing time, money, and effort because you assumed differently about your users' needs.
Stay flexible to change, especially if your users or testers share feedback that significantly adjusts your initial plan. Adapting to new business software applies before and after you roll it out at work. And with a proper software change management plan in place, you'll be better prepared in advance.
Work with a dev team that prioritizes UX (like ours). Because finding the balance between tech specs and user-friendliness is your key to building a value-adding product.
Want to dive into your user needs and pain points — but not sure where to start? Book a free exploration call with me, Kerstin, and let's cover our UX bases together.